Vegan Lemon Bars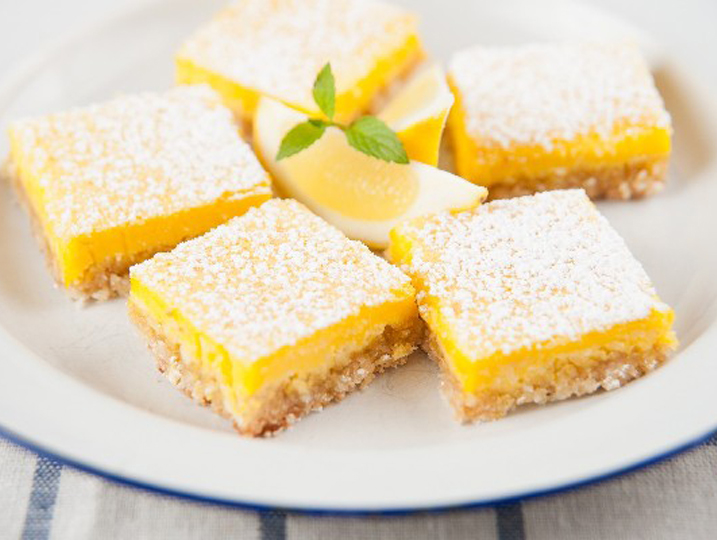 A perfect lemon bar is made of 2 things – a shortbread crust that is thick and buttery, and a luscious tangy lemon filling.
These citrus bars are vibrant and refreshing with a perfect balance of sweet and tart.
No fussy ingredients and beyond easy to make. Try them out yourself!
INGREDIENTS:-
(for the shortbread)
1 cup all-purpose flour
½ cup sugar
½ cup coconut oil or vegan butter, melted
1 tsp vanilla extract
(for the lemon topping)
½ cup lemon juice
5-6 tbsp corn starch
1 cup coconut cream or full fat coconut milk
1 cup sugar
1 tsp lemon zest
¼ tsp ground turmeric (for colour)
INSTRUCTIONS:-
In a mixing bowl, sift the flour and sugar.
Stir in the oil / butter and vanilla extract. Mix thoroughly to form a dough.
Preheat the oven to 350 degrees F.
Line a baking pan with parchment paper. Transfer the dough into the pan and press down firmly.
Bake for 15-20 minutes until the edges turn slightly golden brown. Once done, set aside.
In a saucepan, without any heat, whisk together the lemon juice and corn starch to make a slurry.
Continue to whisk while you add the sugar, coconut cream, turmeric and lemon zest to avoid any lumps.
Turn the heat to medium and let it simmer for about 7-10 minutes as the sugar starts to melt and the mixture thickens.
Pour the filling over the crust and spread evenly using a spatula.
Transfer to the refrigerator and let it chill for at least 3 hours.
Dust confectionary sugar, slice into bars and serve.