Malai Kofta (Vegan)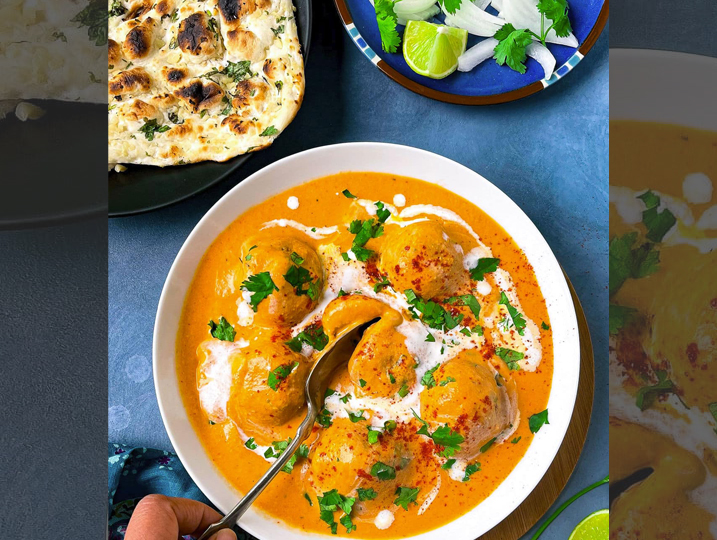 Fried veg balls made mainly with potato and tofu, dunked in a rich and creamy gravy, our vegan malai kofta recipe is surely a keeper! You can take a healthier route and opt out of deep-frying the balls, simply air-fry or bake! They'll still turn out crisp on the outside and tender on the inside. The onion-tomato based gravy is simmered in a variety of spices and made rich with cashew paste and heavy cream. Pair with naan or basmati rice for a luxurious tasting meal.
INGREDIENTS:-
(For the kofta)
1 medium potato, boiled & grated
200g tofu, grated
1/2 cup green peas
1 carrot, boiled and mashed
1/2 tsp salt (or to taste)
1/2 tsp chilli powder
1/2 tsp garam masala
2 tbsp mint leaves, finely chopped
2 tbsp coriander leaves, finely chopped
3 tbsp corn starch
Oil for frying
(For the curry)
1/2 tsp fennel seeds
2 cardamom pods
4 cloves
2 tsp ginger-garlic paste
1/2 inch cinnamon stick
2 onion, chopped
2 tomatoes, chopped
1/2 tsp turmeric powder
1/2 tsp coriander powder
1 tsp ground cumin
1 tsp red chilli powder
1 tsp garam masala
1 tsp dried fenugreek leaves
Salt to taste
2 tbsp cashew paste
1/2 cup water
2 tbsp vegetable oil
1 cup plant-based cream or milk (unsweetened)
INSTRUCTIONS:-
(For the kofta)
In a mixing bowl, combine the grated potato and tofu, mashed carrot, green peas, mint leaves and coriander leaves.
Add the spices and corn starch. Knead until the dough holds together.
Take 1 1/2 tbsp of dough and shape the dough into uniform balls.
Heat oil in a skillet over medium-heat. Fry the kofta in small batches to avoid them sticking to each other.
Toss occasionally until the balls are golden and crisp.
Transfer to a plate lined with paper towel.
(For the curry)
Heat oil in a pot over medium heat. Add the fennel seeds, cardamom, cloves and cinnamon. Sauté until aromatic.
Add the onion and sauté till golden brown.
Add the ginger-garlic paste, tomatoes and cook for 4-5 minutes.
Stir in the spices.
Pouring 1/2 cup water. Stir well and allow the mixture to slightly cool down.
Transfer the mixture to a blender and blend until smooth.
Bring the blended mixture back in to a heated pot and bring it to boil.
Add the milk, crushed fenugreek and cashew paste. Cover with a lid and let it simmer on low for 2-3 minutes.
Add the koftas to the curry right before serving. Garnish with coriander leaves.