Vegan Sweet Potato Pie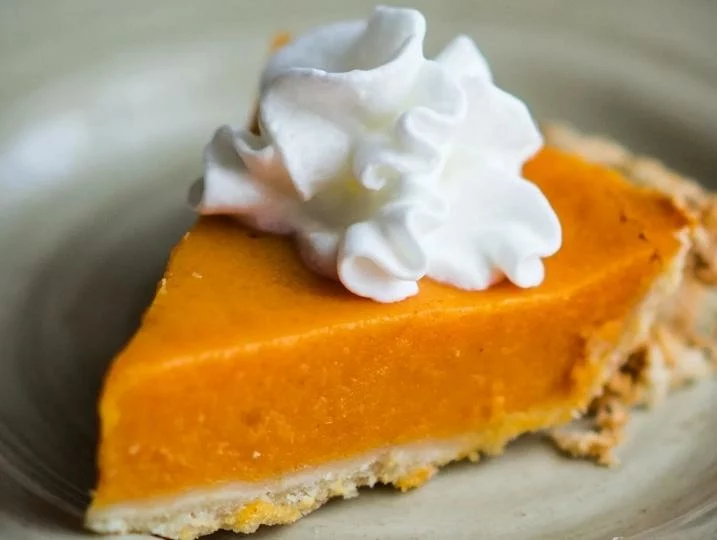 A cozy dish is one that is warm, flavourful and decadent, and a sweet potato pie is just that!
Similar to pumpkin pie in taste and texture, this sweet potato pie is a classic holiday dessert that strikes a perfect balance between sweet and spice. Filled with creamy potatoes, aromatic spices, notes of vanilla and a crispy crust, it really is comfort food at its best!
TOTAL
TIME
2 hours
20 minutes
SERVING
8 slices
(10-inch pie)
INGREDIENTS :-
(For the filling)
1 1/2 cup boiled and mashed sweet potatoes
1/2 cup almond milk
1/2 cup maple syrup or sugar
1 tsp vanilla extract
1/2 tsp cinnamon
1/2 tsp nutmeg
(For the crust)
1 1/2 cup all-purpose flour
1/2 cup coconut oil, chilled
1 tbsp coconut sugar or maple syrup
4 tbsp ice cold water
(For the topping)
Vegan whipped cream (optional)
INSTRUCTIONS:-
(For the filling)
Place all the filling ingredients in a blender and blend to form a smooth purée.
(For the crust)
To a large mixing bowl, sift in the flour.
Add the coconut oil and sweetener, and fold until the mixture is crumbly.
Add the water in parts and stir until the dough begins to hold together.
Place the dough on a lightly floured surface and work it into a ball.
Flatten the dough into a disc. Cover tightly with a wrap and refrigerate for at least 1-2 hours.
Remove the disc from the refrigerator and let it sit at room temperature for 5-10 minutes.
Once again, dust the surface with flour and roll out the disc into a 10-inch circle. Carefully transfer it into a pie pan.
Pour the filling into the pie pan and even it out. Tap the pan lightly on the counter to remove any air bubbles.
Preheat the oven to 350 degrees F and bake for 1 hour or until the crust is golden-brown, the filling turns darker and passes the toothpick test. (Note : once done, the filling will still remain slightly jiggly)
To prevent burning, cover the edges of the crust with foil paper after 30 minutes of baking.
Remove from the oven and transfer to a cooling rack.
Once the pie cools down to room temperature, cut into slices and serve with a dollop of whipped cream.