Vegan Pigs In A Blanket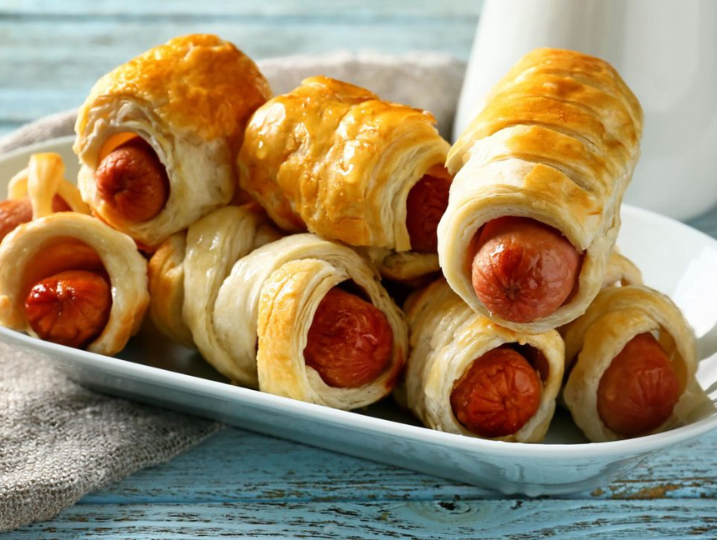 Out of the many ways sausages can be relished, pigs in a blanket are our personal favourite! It may not be a fancy appetiser, but it sure is one blissful comfort food that is impossible to resist.
Wrapped in a pastry made from scratch, this recipe calls for the handiest of ingredients and an insanely easy method to prepare.
Give this recipe a try and watch this bite-sized snack become a staple at all your parties!
SERVING
10 pigs in a blanket
INGREDIENTS:-
10 mini vegan sausages
1/2 tbsp vegetable oil
1 tbsp plant-based milk
1/4 tsp ground black pepper
A pinch of salt
1 tsp dried herbs
(For the dough)
3 cups all-purpose flour
1 tbsp baking powder
1 tsp sugar
1 1/4 tsp salt
1 cup plant-based milk, unsweetened
4 tbsp vegan butter, melted (or olive oil)
INSTRUCTIONS:-
To make the "blanket"
In a large bowl, sift the flour, baking powder, sugar and salt. Add the milk and butter, and whisk until well-combined and the dough comes together. (If the dough is too dry, add 1-2 tbsp of milk.)
Place the lump of dough on a lightly floured surface and roll it out to a rectangle sheet, about 1/8 inch in thickness. Using a cookie cutter, cut the sheet into 1-inch strips.
To assemble the "pigs in a blanket"
Roll the strip around each sausage starting from one end of the sausage to the other, and place them on a greased baking sheet.
Make the glaze by combining milk and seasoning in a small bowl. Brush the glaze over the spirals.
Bake in a preheated oven at 220 degrees C for 10-15 minutes or until the pastry is puffed and golden, and the sausages are well done.
Serve hot with dijon mustard, BBQ sauce or your preferred dipping sauce.