Tofu Scramble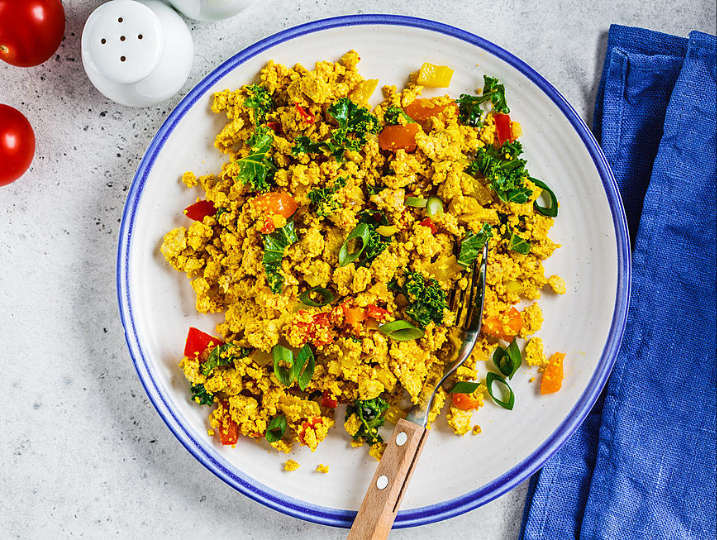 This recipe is a saviour when you're having one of those days where you're running short of time and you have to whip up your breakfast in under 15 minutes!
All you need is a block of tofu and any herbs and spices you have on hand.
You can customise it with an array of flavours by adding ingredients such as nutritional yeast, soy sauce, mustard or tahini.
A simple yet super healthy breakfast that's loaded with plant-based protein, fiber and a wide variety of vitamins and minerals.
Here's how you can make this quick and easy breakfast scramble:
INGREDIENTS:-
400g tofu block
1 tbsp olive oil
1 onion, finely chopped
1 tbsp garlic, minced
1/4 tsp ground cumin
1/4 tsp crushed black pepper
1/2 tsp salt (or to taste)
1/4 tsp turmeric
1/2 tsp chilli powder (or to taste)
1/2 cup parsley, chopped
5 tbsp plant-based milk, unsweetened
INSTRUCTIONS:-
Gently press down the tofu with a paper towel to drain out the excess liquid.
Using a potato masher or a fork, mash the block of tofu into crumbles.
Heat oil in a pan over medium heat.
Add the onion and sauté for about 5 minutes or until lightly golden.
Stir in the garlic, cumin, pepper, salt, turmeric and chilli powder.
Add the crumbled tofu and stir until well-combined.
Continue to cook while stirring constantly for about 5 minutes or until the tofu turns crisp and golden-brown.
Reduce the heat to low and pour in the milk. Stir again to thoroughly combine.
Fold the parsley through the mixture and remove from heat.
Serve hot with toast.