Tofu Lababdar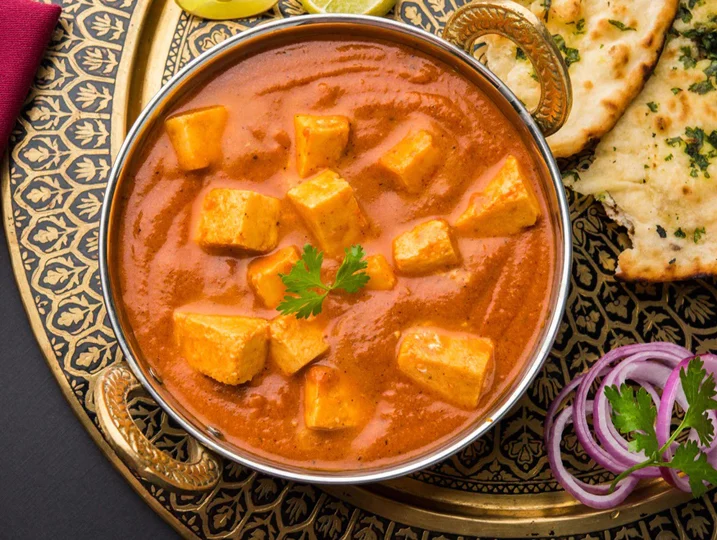 Bursting with myriad flavours, tofu lababdar is the ultimate luxurious gravy for a king-sized meal!
Soft tofu bits dunked in a creamy and rich gravy made with whole spices, onion-tomato paste and vegan cream.
This restaurant-style gravy requires no fancy ingredients and can be whipped up in 30 minutes!
Here's how to make velvety smooth tofu lababdar :
INGREDIENTS:-
(For the onion-tomato paste)
1 medium onion, chopped
2 medium tomatoes, chopped
8-10 cashew nuts
1 green cardamom
3 cloves
1/2 inch cinnamon stick
1-2 dried red chilli
1 cup water
(For the gravy)
2 tbsp oil
1 bay leaf
1/2 cup onion, finely chopped
1 ½ tsp coriander powder
1 tsp chilli powder
¼ tsp turmeric powder
½ tsp garam masala
1 tbsp ginger-garlic paste
3/4 tsp salt
3/4 tsp coconut sugar
1/2 tsp kasurimethi
200g tofu, cut into cubes
2 tbsp tofu, grated
2-3 tbsp vegan cream
1 cup water
2 tbsp chopped coriander leaves, for garnish
INSTRUCTIONS:-
In a saucepan, combine all the mentioned ingredients under "onion-tomato paste". Bring the mixture to a simmer, and cook with a lid on for about 8-10 minutes or until the tomatoes are softened.
Allow the mixture to cool to room temperature before transferring to a blender and blending to a smooth paste. Set aside.
Heat oil in a kadai over medium heat. Add the bay leaf and sauté for a minute.
Add the onions and sauté until slightly golden.
Add the ginger-garlic paste and cook for about a minute before stirring in the onion-tomato paste.
Mix in coriander powder, chilli powder, turmeric powder, garam masala and salt. Cook until the mixture thickens slightly.
Pour in 1 cup of water and add sugar before covering with a lid. Cook for 3-5 minutes or until the gravy thickens and turns darker in colour.
Add kasurimethi, tofu cubes and grated tofu and mix well. Cook for 1-2 minutes before turning off the heat.
Pour the cream and mix in the coriander leaves.
Cover with a lid and let the gravy sit for about 5 minutes for the tofu to absorb the flavours.
Serve hot with roti, naan or rice.