Roasted Cauliflower Salad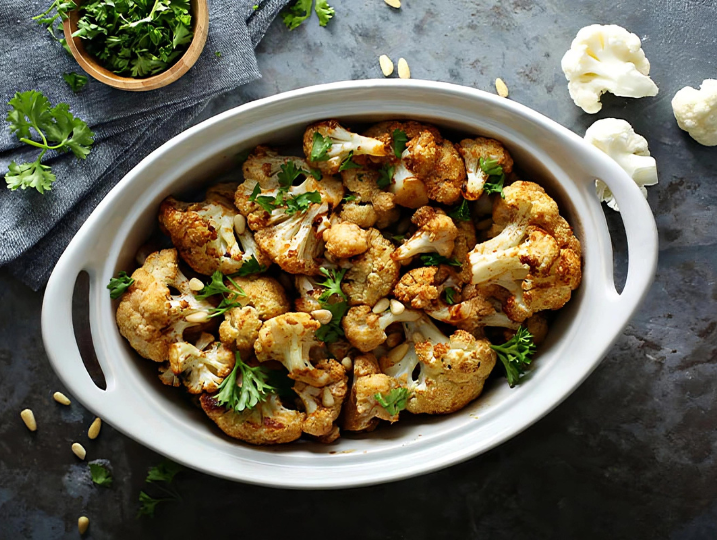 Crispy yet tender cauliflower bits are baked in smoky and zesty spices, and are then placed on a bed of lettuce along with avocados, onion and cucumber. Finished off with a tangy dressing made from scratch, this uber simple salad recipe is definitely one for the books!
While we've kept the ingredients in this recipe rather minimum, feel free to pack in your favourite legumes and whole grains for a more nourishing meal.
Here's how to make this vibrant and wholesome roasted cauliflower salad:
INGREDIENTS:-
1/2 cauliflower head, cut into florets
1 small head iceberg lettuce, torn
1 tsp cumin
1 tsp smoked paprika
1 tsp garlic powder
A pinch of salt
1/4 tsp ground black pepper
1 tbsp olive oil
1 tsp lemon juice
1 small cucumber, diced
1/2 avocado, diced
1 onion, sliced
2 tbsp toasted sesame seeds
(For the dressing)
2 tbsp apple cider vinegar
1tbsp maple syrup
2 cloves garlic, minced
1 tbsp Dijon mustard (make sure it's vegan!)
2 tbsp parsley, finely chopped
INSTRUCTIONS:-
Preheat the oven to 210 degrees C.
To a bowl, add the cauliflower, olive oil, lemon juice, cumin, smoked paprika, garlic powder, pepper and salt. Mix until thoroughly coated.
Assemble the florets onto a prepared baking sheet and bake for 30 minutes.
Line a salad bowl with lettuce and add the onion, cucumber and avocado.
Place the roasted cauliflower bits and sprinkle the toasted sesame seeds.
In a small mixing bowl, combine all the dressing ingredients and drizzle it over the salad. Serve immediately.