Mushroom 65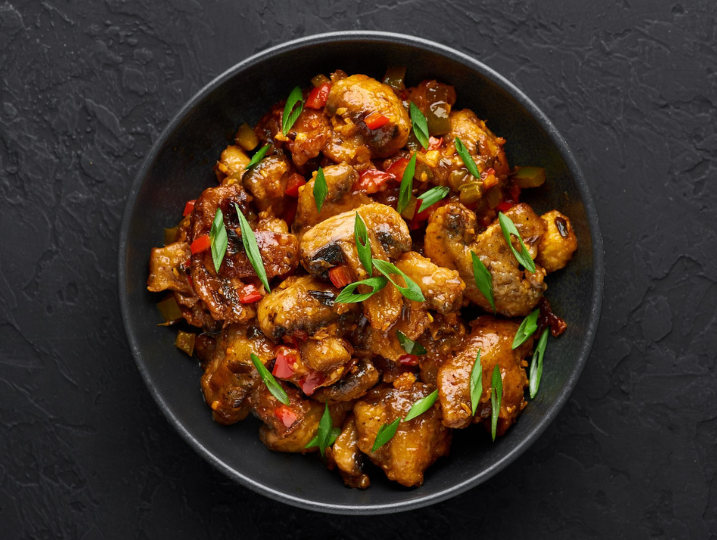 This lip-smacking appetiser hails from South India and has a lot of myths and stories on its origination. First introduced as Chicken 65 at Buhari hotel, Chennai in the year 1965, this robust dish is filled with hot spices and strong flavours.
While there are numerous versions of this iconic dish, our vegan recipe replicates the authentic flavours using mushrooms.
Try this recipe with tofu, cauliflower, baby potatoes or broccoli, they'll still turn out succulent yet crisp and packs in a punch of flavour!
INGREDIENTS:-
400g mushrooms, washed & dried
1/4 tbsp turmeric powder
1 tbsp red chilli powder (or to taste)
1 tbsp Kashmiri red chilli powder
1 tbsp coriander powder
1/2 tbsp ground cumin
1/2 tbsp garam masala
1 tbsp ginger-garlic paste
1 tbsp ground black pepper
2 tbsp all-purpose flour
2 tbsp corn flour
2 tbsp gram flour
2 tbsp rice flour
1/2 tbsp salt
4 garlic, chopped
1 small onion, sliced
3-4 green chillies, slit
2 tbsp curry leaves, finely chopped
Oil for frying
4-5 tbsp tomato ketchup
Water as required
1/2 lemon, juiced
INSTRUCTIONS:-
To a large mixing bowl, add the mushrooms, turmeric powder, chilli powder, coriander powder, cumin, garam masala, black pepper, ginger-garlic paste, all-purpose flour, corn flour, gram flour, rice flour and salt. Stir until well combined and the mushrooms are thoroughly coated.
Heat oil in a deep fryer over medium heat. When the oil is ready for frying, place the mushrooms in batches and cook for 3-4 minutes or until golden-brown.
Transfer to a plate lined with paper towel to drain excess oil.
Heat 2 tbsp of oil in a pan over medium heat. Add the garlic, onion, chillies and curry leaves, and sauté until the onions turn lightly brown.
Add the tomato ketchup and 1-2 tbsp of water. Stir to form a runny paste.
Add the fried mushrooms and mix to coat the mushrooms with the ketchup mixture.
Squeeze half a lemon and give it a final stir.
Garnish with fried curry leaves and serve!