Kale Dal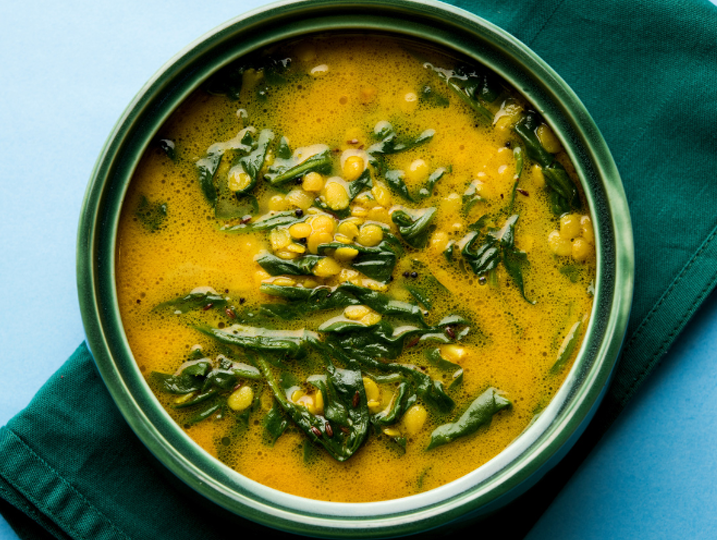 Widely known as the "King of Greens", kale has earned this title from being one of the most nutrient-dense plants in the world. It's loaded with antioxidants, calcium, omega 3 fatty acids, fiber, as well as various vitamins and minerals. Incorporating these leaves into the quintessential dal fry not only gives a boost in nutrients, but also adds a nutty, slightly bitter and earthy flavour. This one-pot curry is wholesome and comforting, and can be whipped up in under 30 minutes!
INGREDIENTS :-
1 cup toor dal (split pigeon peas)
1 bunchkale, roughly chopped
1 tbsp cumin seeds
1/4 tsp turmeric powder
1 tsp coriander powder
1 tbsp ginger paste
1 tbsp garlic paste
1 tomato, finely chopped
6 green chillies, finely chopped
2 onions, finely chopped
Salt to taste
3 tbsp vegetable oil
INSTRUCTIONS :-
Heat a saucepan over medium heat and add the dal. Dry fry for 1-2 minutes before adding 2 cups of water.
Add turmeric powder and stir well.
Close the lid and cook on medium-low heat for about 8-10 minutes or until the dal is thoroughly cooked.
Heat oil in a pot over medium heat.
Add cumin seeds, chillies and onions.
When the onion turns slightly brown, add the tomatoes.
Add coriander powder, salt and kale. Mix well.
Cover with a lid and let it cook for 4-5 minutes on low heat.
Add the cooked dal to the pot and stir until well- combined.
Add 1 cup of water or more depending on your preferred consistency.
Bring the mixture to a boil and turn off the heat.
Serve with roti or rice.