Hara Bhara Kabab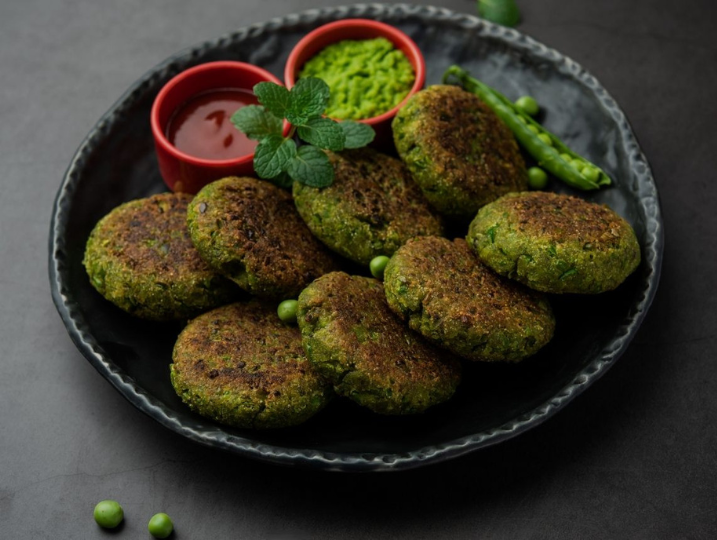 This healthy appetiser is loaded with greens, potato, tofu and an assortment of Indian spices that feels like a celebration in your mouth!
This lush snack is easily one of the best kabab dishes ever, and a match made in heaven for vegans!
Make this at your next get-together and you won't hear anyone say "no" to seconds!
INGREDIENTS:-
1 bunch spinach
1 large potato, boiled
1 cup tofu, crumbled
3/4 cup green peas, boiled
1 tbsp oil
2 tsp garlic, finely chopped
2 tsp ginger, finely chopped
2-3 green chillies
1/2 tsp Kashmiri red chilli powder
1/2 tsp coriander powder
1/2 tsp cumin powder
1/2 tsp garam masala
1/2 tsp chaat masala
1 tsp Kasuri Methi
1 pinch turmeric powder
1/2 tsp salt (or to taste)
1 tbsp coriander leaves, finely chopped
2 tbsp mint leaves, finely chopped
2 tbsp gram flour (dry roasted)
1 tbsp corn flour
1 cup bread crumbs
Cashews, halved
Oil for Frying
INSTRUCTIONS:-
De-stem, rinse and wash the spinach.
Bring a pot of water to a boil and add the washed spinach. Let it cook for about 2 minutes before draining the water out.
Allow the spinach to cool before adding it to blender and blending it to a coarse mixture.
Heat oil in a sauce pan over medium heat. Add the ginger, garlic and chillies.
Stir in the coriander powder, chilli powder, cumin powder, turmeric powder, chat masala, garam masala and kasuri methi, and sauté for about a minute.
Add the crumbled tofu, stir until well combined and cook for 3-4 minutes.
To a large bowl, add the boiled potato and mash until no lumps remain. Add the spinach, coriander leaves, mint leaves, tofu mixture, salt, cornflour, gram flour and 2 tbsp of bread crumbs. Mix well to form a non-sticky dough.
Take a heaping tablespoon of kebab mixture and shape into a patty. Proceed to do the same for the remaining mixture.
Carefully roll the patties in bread crumbs and press a cashew halve into each patty.
Heat oil in a pan or a skillet over medium heat and fry the patties on both sides until golden brown and crisp.
Serve hot with mint chutney, tomato ketchup and pickled onions.