Chettinad Mushroom Curry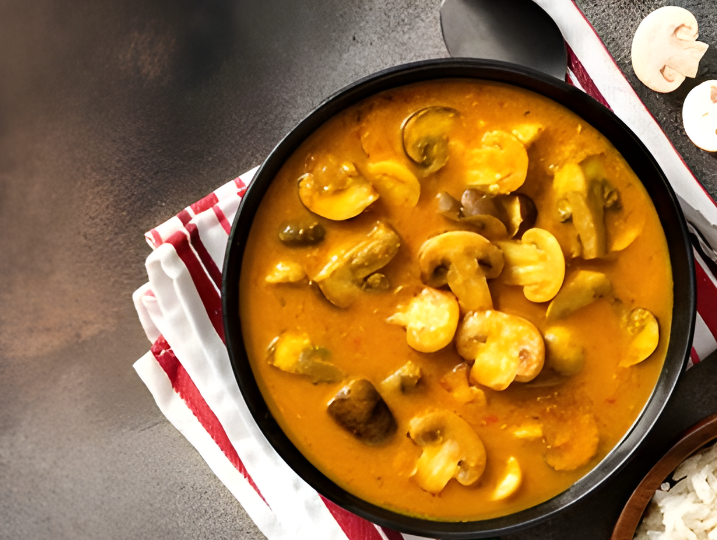 This fiery curry which is generally synonymous with spicy and aromatic food, is a classic dish from the Chettinad cuisine.
The secret to its authentic flavours lies in its unique blend of only the warmest and richest spices like star anise, bay leaves, peppercorn, cardamom, cumin, fennel seeds, and of course the star ingredient that is dried whole red chillies. Freshly roasted before grounding to a fine powder, and finally simmering it with mushrooms, this curry is the epitome of celebration in your mouth!
Here's how to make Vegan Chettinad mushroom curry to enjoy with piping hot rice or roti:
INGREDIENTS:-
(For the chettinad spice blend)
6-8 dry red chillies
1 tsp coriander seeds
1/4 tsp cumin seeds
2-3 bay leaves
6-8 cardamom pods
1/2 tsp fennel seeds
6-8 cloves
1/2 tsp black peppercorn
1 star anise
1/2 inch ginger
1/4 inch cinnamon
1 sprig curry leaves
(For the gravy)
200 grams button mushroom, washed and halved
1 tablespoon vegetable oil
1/4 tsp fennel seeds
2 dry red chillies
1/2 sprig curry leaves
1 tbsp garlic paste
1 cup onion, finely chopped
1 cup tomato, finely chopped
1/4 tsp turmeric powder
1 tsp red chilli powder (or to taste)
1 1/2 tsp coriander powder
Salt to taste
2 cups water
1/4 cup freshly shredded coconut
1/4 cup cashews
1 sprig coriander leaves, chopped
INSTRUCTIONS:-
Heat a pan over medium-low heat and add the red chillies, coriander seeds, cumin seeds, cardamom, fennel seeds, cloves, peppercorn, star anise, ginger, bay leaves, cinnamon and curry leaves. Turn the heat to low and roast the mixture for 3-4 minutes or until fragrant.
Allow the spice mixture to cool before transferring it to a blender and blending it to a fine powder. Set aside.
In a blender, add the shredded coconut and cashews and blend to a smooth paste. Set aside.
Heat oil in a pot over medium heat. Add the fennel seeds, red chilies, curry leaves, garlic paste and onion. Sauté until the onion turns golden-brown.
Add the tomatoes, turmeric powder, chilli powder, coriander powder and salt, and continue to sauté.
Pour in 1/2 cup of water and cook until it turns to a thick consistency.
Stir in the coconut-cashew paste.
Add the mushrooms and coriander leaves, and mix until well combined.
Close the pot with a lid and cook until the mushrooms turn soft and tender.
Remove the lid and add the Chettinad spice blend.
Pour in the remaining water and stir well. Continue to simmer for 1-2 minutes before removing from heat.
Serve hot with rice or roti.