Carrot Fritters (Vegan)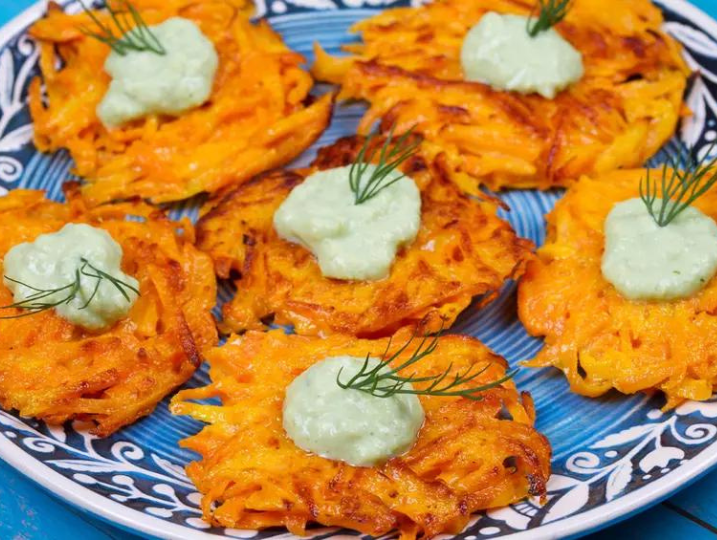 If you want to pack in veggies into a crispy snack, then fritters are a brilliant way to go!
While this recipe is made with an abundance of shredded carrots, you can go ahead and make them with practically any vegetable.
They're super quick to make with only a handful of ingredients, and you can choose a healthier route by baking them away! (Don't worry! They'll still turn out crunchy and crisp.)
No grease, just veggies – these fritters are indeed a healthy binge, and they pair perfectly with a cool dollop of vegan yogurt or sour cream.
INGREDIENTS:-
3 large carrots, peeled and coarsely grated
1/2 tsp salt
1/2 tsp ground black pepper
1 tsp of ground cumin
1/2 tsp of coriander powder
1 tsp paprika
2 cloves garlic, minced
1 onion, thinly sliced lengthwise
1/2 cup of fresh mint leaves, finely chopped
1/2 cup + 2 tbsp chickpea flour
1/2 cup water
2 tablespoons of oil, for frying
INSTRUCTIONS:-
Squeeze out as much moisture out of the grated carrots and add them to a large mixing bowl.
Add the remaining ingredients and stir to form a thick batter.
Heat oil in a pan over medium heat.
Add a spoonful of batter and flatten it out to a patty-like shape.
Cook for 2-3 minutes or until it firms up and carefully flip it over.
Continue to cook until both sides turn crisp and lightly browned.
Alternatively, you can bake the fritters.
Preheat the oven to 375 degrees F.
Line a baking tray with parchment paper and drop a spoonful of batter, flattening it out to about 1/2 inch in thickness.
Bake for about 20-25 minutes, flipping it over half-way.
Serve hot with dipping of choice.