How To Host An Eco-Friendly Party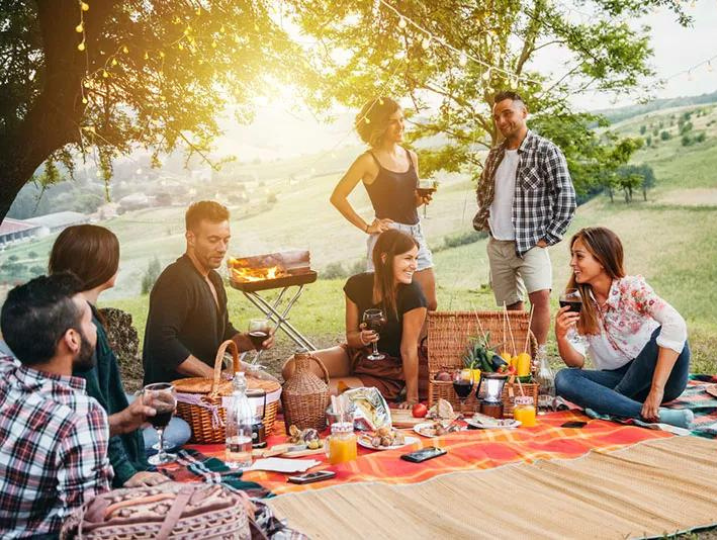 Whether it's a birthday party, get-togethers, a holiday party or a work event, it seems that the big day must end with a big trash bag filled with plastic and paper junk. There's a table full of half-eaten food and you start to pack the party decorations with a conviction that they'll be used again (when more often than not, this never happens). And now that the party is over, you realise how much of this was a big big BIG waste!
"But there's no way I could have known" you say to yourself, about the amount of waste that's left behind.
But there is a way! An easier and simpler way that not only saves your time and money, but can also make your guests' experience more enjoyable.
The hassle of planning a party is hard enough and to even think of throwing an eco-friendly one already seems tiring and overwhelming.
But remember, a green living is one that comes naturally to us humans. It's consumerism and the need for social approval that has pressurized us into thinking that a party must be amplified and excessive for people to have a good time.
Here's a quick run through of 8 tips to host an eco-friendly party:
1. Get rid of the paper invites 
Paper invites are indisputably outdated, not because it requires a large amount of unnecessary material, but because the purpose of an invite can easily be achieved through the phones that we hold in our hands for most parts of the day. Yes, I mean e-Invites!
Whether it is through a text, e-mail or a phone call, the purpose of an invitation is to request presence by sending out details of the party with date, time and venue. There are several websites that let you create digital invitations and allows you to be super creative and personal.
You can also help your guests understand by mentioning on the invite that you're throwing an eco-friendly party.
2. Include RSVP on the invitation        
One of the main requisites for an eco-friendly party is to know the exact guest count. By confirming the number of people that will show up, you can arrange appropriate quantities of food and allot the right number of tables, chairs & utensils. This will significantly reduce wastage as everything is planned for proportions. So, add RSVP on invitations and set a deadline for responses. You can mention the reason why their response is imperative and include multiple means of communication for your guests to respond.
3. Rent the decorations or buy reusable ones
Instead of going to your local party-supply store and buying one-off party decor, you can either opt for durable and reusable decorations that have a generic theme and are versatile to use for a variety of events.
You can also rent out the decorations. Renting is almost always cheaper than buying and it also lets you set up the venue with the latest decor. You're free to have themed parties without having to worry about storage.
4. Recyclable & Reusable cutlery
Swap all the dishware for reusables. Real cutlery is far more sustainable than single-use cutlery. Renting companies let you rent out not just the decorations but also the place setting.
If buying or renting reusables is just not feasible for you, you can always buy compostable cutlery. Made from biodegradable plastic, bamboo and other natural materials, compostable cutlery is the second best option for a green- party.
You can also consider a finger-food only menu which will drastically reduce the number of cutleries required.
Also, skip the bottled water and have a glass water dispenser instead.
5. Serve Vegan food 
 Serving vegan food is one of the most effective ways to reduce the environmental impact of your party. With every dairy and meat product having a vegan alternative, planning a vegan menu shouldn't be an issue. Home cooked or restaurant-bought, vegan food is just as delectable if not more than any non-vegan food, and will sure to satisfy even a hard-core carnivore!
Shop from local food stores to reduce fuel consumption and steer clear of highly processed and packaged foods. Use fresh and organic ingredients as much as possible.
6. Have a plan B for leftovers
Even with the accurate guest count, a host tends to overestimate the amount of food required, due to the fear of not having enough food for everybody. This is understandable as there's no way to foresee a guest's appetite.
So, plan on how the leftovers will be handled.
~ You can donate the food to the needy or to your local community shelter (make sure that the food is sufficient, untampered and well packed).
~ You can pack some up for all your guests and neighbours to take with them.
~ You can store the food in the refrigerator and use them for meals for the next few days.
7. Minimise the waste in gift bags and party favours
Gift-giving is a wonderful part of any celebration. The gift that is given should reflect thought and care. It's only when you gift mindlessly that you create waste.
Gift something sustainable to help reduce the waste in their life. You can also completely avoid wrapping paper and gift bags by giving out gift cards.
8. Plan a dynamic party!
So what makes up a good party? A warm and relaxed setting where people comfortably engage with one another, have delightful conversations and participate in fun little activities & games. None of it has much to do with the decor, gifts or anything materialistic. So you don't have to go out of your way to try to create good impressions when it is leaving the exact opposite on our planet!
As a host you need to understand that in order to throw a fun and memorable party, you'll need to organise the right kind of entertainment and set the right kind of tone for people to really enjoy themselves, because when the party's over, it's the memories that will last longer than the goodie bags.
In conclusion, the best parties are the ones that are kinder on the environment, doesn't leave behind a huge carbon footprint and still has the attendees thoroughly entertained! Simplicity and mindfulness are the first steps of planning a sustainable party.
Disclaimer: The content provided in this article is provided for information purposes only and is not a substitute for professional advice and consultation, including professional medical advice and consultation; it is provided with the understanding that HerbivoPvt. Ltd. is not engaged in the provision or rendering of medical advice or services. The opinions and content included in the article are the views of the author only, and Herbivo does not endorse or recommend any such content or information, or any product or service mentioned in the article. You understand and agree that Herbivo shall not be liable for any claim, loss, or damage arising out of the use of, or reliance upon any content or information in the article.