DIY Chemical-free Cleaners for your Home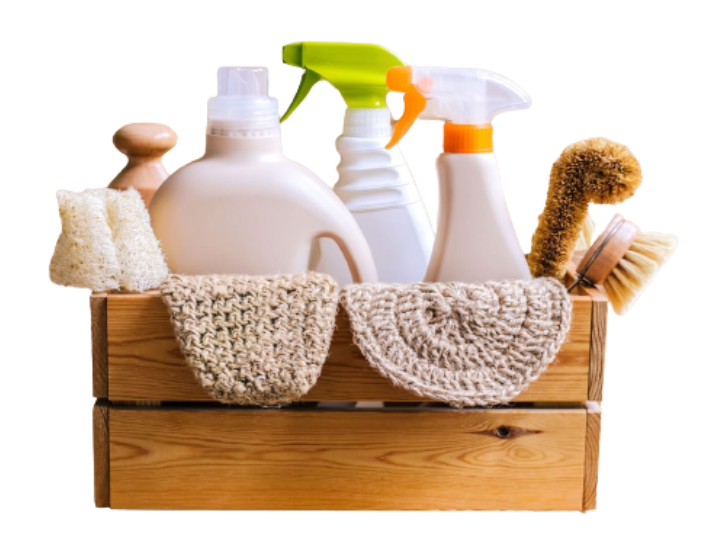 Contrary to what most cleaning products advertise, you don't need an army of powerful chemicals to do a thorough job around your household. There are plenty of pantry-staple ingredients that work just as well, if not better!
The problem with store-bought cleaning products
While there are a handful of brands that have safe cleaning products, even the best ones often contain dozens of toxic chemicals like alcohol, artificial colours/dyes, fragrances, bleach, ammonia, glycol ethers, formaldehyde, sodium laureth sulfates and sodium borate.
Manufacturers claim that since these toxic chemicals are only added in small amounts, they aren't likely to be a problem, but routine exposure to these chemicals through the air we breathe, on our skin and even the slightest ingestion can cause severe health issues. Potential health hazards include skin allergies, chemical burns, asthma and lung irritation, to name a few.
These toxic chemicals are released to the environment either through evaporation during normal use, or they go down our drains and into the sewer system, and eventually into our rivers, lakes and oceans.
These chemicals are broken down by the time they reach the wastewater treatment systems, which aren't equipped to filter out such chemicals. This means that these toxic chemicals wind up in our fresh and saltwater ecosystems, leading to detrimental effects on animals, plants, soil and also to human health.
Whether you need a disinfectant, cleanser, sanitizer or a deodorant, the safest cleaning solutions can be made in your own home! Not only do they cost next to nothing, but they also rid your home of toxic chemicals, and most importantly doesn't harm the planet.
To begin with, here are the most common non-toxic cleaning products :
Castile soap
Baking soda
Lemon juice
White vinegar
Essential oils
Salt
Olive oil
1. For your Glass Windows and Mirrors :
Add 1 part of water, 1 part of vinegar and a few drops of citrus oil to a spray bottle, and shake well.
Spray onto the mirror or glass surface and wipe down with a microfiber towel.

2. For your Kitchen :
(A) your countertops, stove top, refrigerator, microwave, cutting boards and appliances.
Add 3 parts of water, 1 part of white vinegar and a few drops of essential oil (preferably tea tree and lemongrass) to a spray bottle and shake to well-combine.
Spray the solution and use a kitchen sponge to scrub and wipe down with a wet cloth.
For a heavy-duty cleaner or for rust stains, you can use baking soda and vinegar.
Just spray the vinegar and leave it on for about 30 minutes before scrubbing with baking powder.
*NOTE
If your countertop is made of granite, marble or stone, replace the vinegar with rubbing alcohol.
Alternatively, you can also make a solution with 1 tsp castile soap, 2 cups of warm water and a few drops of essential oil.
Do not use baking soda on ceramic and marble surfaces.
(B) For Food-stained Pots and Pans
Sprinkle baking soda over your wet pots and pans. Let it sit for a couple of minutes before spraying with a highly diluted mixture of vinegar and water.
Use a scrub sponge to gently work the cleaner until it's sparking clean, and then wash and rinse.

(C) For your Sink
Sprinkle a generous amount of baking soda all over the sink and faucet.
Let it sit for 1-2 minutes before drizzling over lemon juice or vinegar.
With a soft and damp sponge, scrub the sink in circular motions until clean. Wash and rinse.

(D) For your Drain
Pour 1 pot of hot water down the drain.
Follow it with 1/2 cup of baking soda and leave for about 5 minutes.
Pour in a cup of white vinegar into the drain and leave it for another 5 minutes before washing it down with another pot of hot water.

(E) For your Dish Soap
In a bottle, combine 1 cup of liquid castile soap with 1/4 cup of water. Shake well and use just like regular dish soap.

3. For your Floors
Pour in 1 part of vinegar, 2 parts of water and about 10 drops of essential oil into a bucket.
Use a mop to gently scrub down the floor with the solution.

4. For your Walls
In a small bowl, mix 1/2 cup of baking soda with 1/4 cup of water. Stir to form a thick paste.
Gently rub the paste only on the stains of the wall and wipe with a microfiber cloth.

5. For your Clothes
To remove oil and/or grease stains, sprinkle the stain liberally with corn starch and let it sit for about 10-12 minutes to absorb the oil. Then, simply use a towel to wipe away.
To remove mildew stains or for brightening your clothes, distilled white vinegar works miracles!
Vinegar can be used for various laundry needs, including as a fabric softener, bleach, deodorizer, and also in preventing static build up and colours from fading.
The acetic acid present in distilled white vinegar is mild but also has antibacterial properties, and works by loosening zinc salts or aluminum chloride, causing the dirt to detach from your clothing.
Use by adding 1 cup of distilled white vinegar to the final rinse of your clothes.

6. For your Bathroom
To clean your toilet bowl, pour about 500ml of white vinegar over the inner walls of the bowl. Let it sit overnight, and then scrub it in the morning.
For a more rapid use toilet cleaner, pour the white vinegar and follow it with 1 cup of baking soda, sprinkled evenly. Let it sit for 5 minutes before scrubbing. Then, let it sit again for another 10-15 minutes before washing away.
To clean your tub and shower, combine 1/4 cup of baking soda with 1 cup of water and a teaspoon of castile soap in a spray bottle. Spritz onto the surface and let it sit for about 5 minutes before rinsing away. (Feel free to use a scrub sponge if required.)
For daily cleaning, skip the baking soda and use equal parts of white vinegar and water.

7. As an Air Freshener
A baking soda-based air freshener is considered to be the most effective in absorbing odour from the air.
In a light misting spray bottle, combine 1 1/2 cup of water, 2 tablespoons of baking soda and 10-15 drops of your desired essential oil (eucalyptus, lemon and lavender are great choices). Spray in the air to remove unpleasant odour.
To scent a room, you can whip up a simple potpourri. Pick your ingredients depending on the season or your mood!
To a pot, add rose petals, lemon slices, orange slices, apple slices, cranberries, a few sprigs of rosemary, a teaspoon of vanilla and warm spices like cinnamon, ginger and cloves.
Cover the ingredients with water and bring to a boil over medium-high heat. Let it simmer on low until activated (refill with more water as needed).

Disclaimer : The content provided in this article is provided for information purposes only and is not a substitute for professional advice and consultation, including professional medical advice and consultation; it is provided with the understanding that Herbivo Pvt. Ltd. is not engaged in the provision or rendering of medical advice or services. The opinions and content included in the article are the views of the author only, and Herbivo does not endorse or recommend any such content or information, or any product or service mentioned in the article. You understand and agree that Herbivo shall not be liable for any claim, loss, or damage arising out of the use of, or reliance upon any content or information in the article. +